News
Posted by Myles Cullen on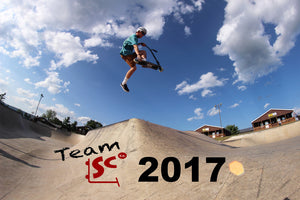 To say that the scooter scene has progressed a little from when we started way back in 2011, is akin to suggesting that the Envy KOS is a little better ride than original Razor folder. The skills of the average rider today are simply extraordinary: Young athletes with only 12 months of experience under their belts regularly blow our minds with their technical competence and killer style; our competitions are jam-packed with riders under 15 that can put some serious pressure on the established "rock star" level pro riders; and the world's top riders just keep pushing the bar higher with every...
Posted by Myles Cullen on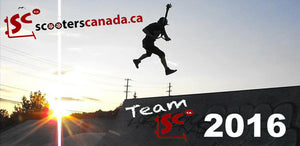 The sport of scootering isn't slowing down any time soon. Every park in every city across our great land is jam-packed with riders of all skills levels and all ages. Scootering has ushered in an entirely new age of action sport athletes. And what athletes they are! In my entire 20+ years in action sports retail, I have never seen such a rapid improvement in the "average" rider. When you come to our competitions, there are more people riding at the Pro level than ever before. The Amateur ranks are just teeming with guys who will clearly be moving to...
Posted by Myles Cullen on
As Canada's leader in pro scooters and parts, we ships hundreds of orders per week. When we launched our online store in 2011 we selected Canada Post as our shipping provider for their ease of integration into our e-commerce platform and reasonable rates. Their service has been almost flawless in this time. As we have grown we have constantly looked for ways to improve our customer satisfaction. For example, we launched the industry's first loyalty program six weeks ago - and even awarded points retroactively to all of our existing customers. Can you imagine? Not only do new customers get...
Posted by Myles Cullen on
Here at Scooters Canada we are always looking for ways to improve our service and online shopping experience. If we are not constantly improving our business and creating new ways to engage you, then we are just not doing our jobs. To that end, we are excited to have launched a new loyalty program today. We are trying to make it easy and fun for you to get more value from the team here at SC. Value is a tricky proposition as it can mean different things to different people at different times, but we are convinced that the best way to...
Posted by Myles Cullen on
As part of our ongoing commitment to helping grow the sport of scootering across all age groups and skill levels, we are pleased to announce another awesome scooter jam coming up on August 22nd in Newmarket, Ontario. Whether you are a total beginner and a seasoned pro, come and join us for an awesome day of riding and community spirit. From comments we have received from parent and riders alike, our events are the best organized competitions around - and we certainly deliver the best prizing. At our last event, we gave away over $4000 in prizes! For complete event...
---